Garage Remodeling in Sarasota, Florida: Create Your Ideal Space
Sarasota, Florida is home to some of the most stunning homes in the Sunshine State. Whether you're a local looking to improve the appearance and functionality of your space or a newcomer who wants to add a personal touch to your new home, undertaking a garage remodel in Sarasota, Florida, can be a great way to increase the value of your property and make your space more enjoyable. From transforming it into a functional storage space or small workshop to simply giving it a new look and feel, garage remodeling has endless possibilities. So, if you're looking to breathe new life into your Sarasota property, you'll want to read on to find out how you can remodel your garage in style.
Common Garage Remodeling Projects in Sarasota, Florida
When it comes to garage remodeling in Sarasota, Florida, homeowners have a wide range of projects and options for improving their garages. Some common garage remodeling projects include storage solutions for better organization, as well as new flooring such as concrete coatings.
When it comes to storage solutions, the goal is to create an efficient system of garage cabinets, overhead storage racks, and Slatwall panels to better organize your items in the limited space of the garage. Homeowners should consider the type and shape of the items being stored to determine what type of storage solution they need.
Another popular option when it comes to garage remodeling is new flooring. Owners may opt for concrete coating to add visual appeal and style, protect against contaminants and grime that can accumulate over time on hard surfaces, and provide a slip-resistant surface for safety. This option is often considered more economical over time than traditional concrete finishes due to its durability.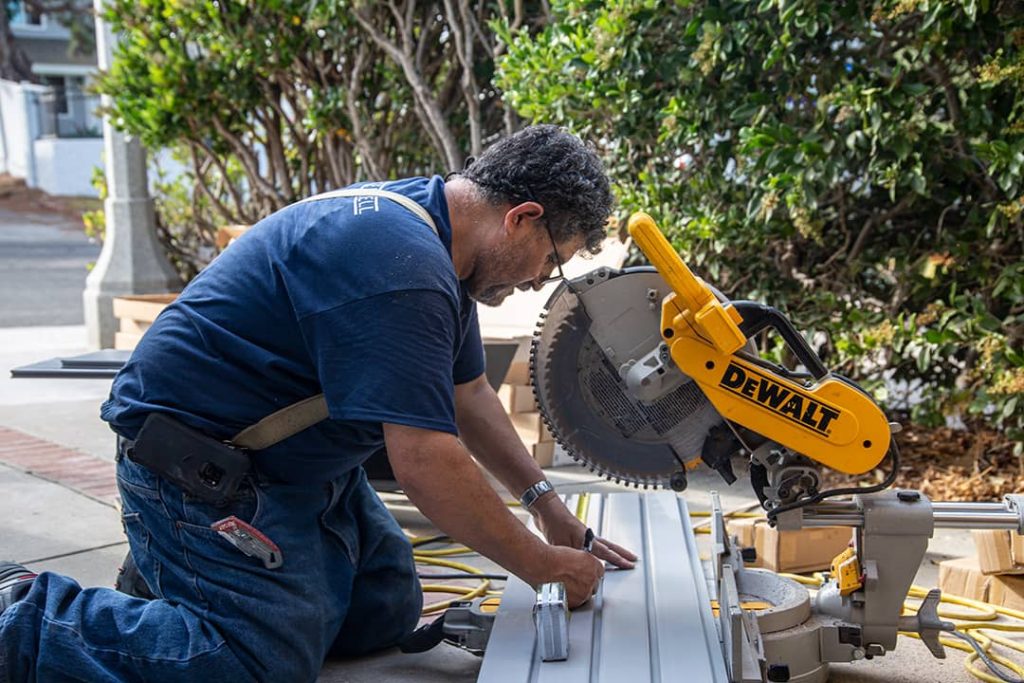 Lastly, this section wouldn't be complete without mentioning aesthetics. Homeowners have the opportunity to really make their garages stand out with custom cabinetry, storage systems, flooring, and furniture pieces that bring a personal touch to the overall look and feel of their space.
As we've explored the various common garage remodeling projects in Sarasota, FL, it's important to remember that a well-organized space can significantly enhance the functionality and enjoyment of your revamped garage. In the next section, we'll delve into the numerous benefits of garage organization and how it can complement your remodeling efforts.
Benefits of Garage Organization
Garage organization is an important part of a successful remodel. One of the major benefits of garage organization is the improved storage capacity that comes with it. With a well-organized space, homeowners can easily access their items without having to dig through piles of clutter and stuff. This makes it easier to find what you're looking for, allows for quicker cleanup, and frees up space for other necessary items such as bike storage, toolboxes, and kayaks. Additionally, bringing order to a chaotic garage can make it easier to spot potential hazards early enough to prevent them from becoming bigger problems down the road.
Organizing your garage and taking advantage of special storage solutions can also save time and money in the long run. When things are neatly arranged, there's less chance of them getting damaged by heavy boxes or containers that are stacked on top of each other. This means fewer broken or lost items which can add up to significant cost savings over time. Furthermore, an organized garage adds aesthetic appeal to any home, making it a great place to store tools and equipment while providing a more attractive look.
When done right, garage organization can be a beneficial task that pays off in the long run for Sarasota homeowners who want to keep their garages neat and tidy. The next step for those looking to maximize their newly remodeled storage space is to explore the variety of garage storage solutions, such as custom cabinets, ceiling racks, and Slatwall panels. These products provide flexible options to create an efficient storage system tailored to one's needs.
Garage Storage Solutions for a Remodeled Space
Adding storage solutions to a garage remodel in Sarasota, Florida, can help give the space area a more organized look and feel. Custom cabinets, ceiling racks, and Slatwall panels are popular storage options that offer homeowners numerous organizational benefits.
Selecting the Right Type of Flooring for Your Garage in Sarasota
When it comes to remodeling your garage, one of the most important details is selecting the right flooring. Traditionally, many people use standard epoxy flooring to create a durable and attractive surface that can stand up to day-to-day wear and tear. However, in recent years concrete coatings have become popular for garages due to their improved durability and resistance against spills and other messes.
Concrete coating offers a more durable finish that can last for many years due to its wear-resistant surface. Moreover, it has excellent protection against UV radiation and oil stains and often comes in a variety of styles and colors that aren't available with common epoxy flooring. On the other hand, epoxy flooring also provides an attractive finish but with less durability. Additionally, it may need regular resurfacing and resealing due to its susceptibility to cracking, scratching, and staining over time.
Furthermore, epoxy can be difficult to repair if damaged or scratched. In contrast, concrete coatings can be easier to apply on various substrates and provide a higher level of protection that's more resistant to abrasion. They also dry faster than epoxy and are much easier to clean up in case of spills.
Finally, concrete coating is typically less expensive in the long run due to its increased longevity – several times greater than what you would normally expect from an epoxy solution.
Now that you have a better idea of what type of flooring you should choose for your garage remodel in Sarasota, Florida, you need to make sure it's applied by an experienced professional who is certified to work with the material you select. In the upcoming section, we'll look at the benefits of hiring professional installers for your garage remodeling project in Sarasota, ensuring a seamless and high-quality outcome that elevates the functionality and beauty of your space.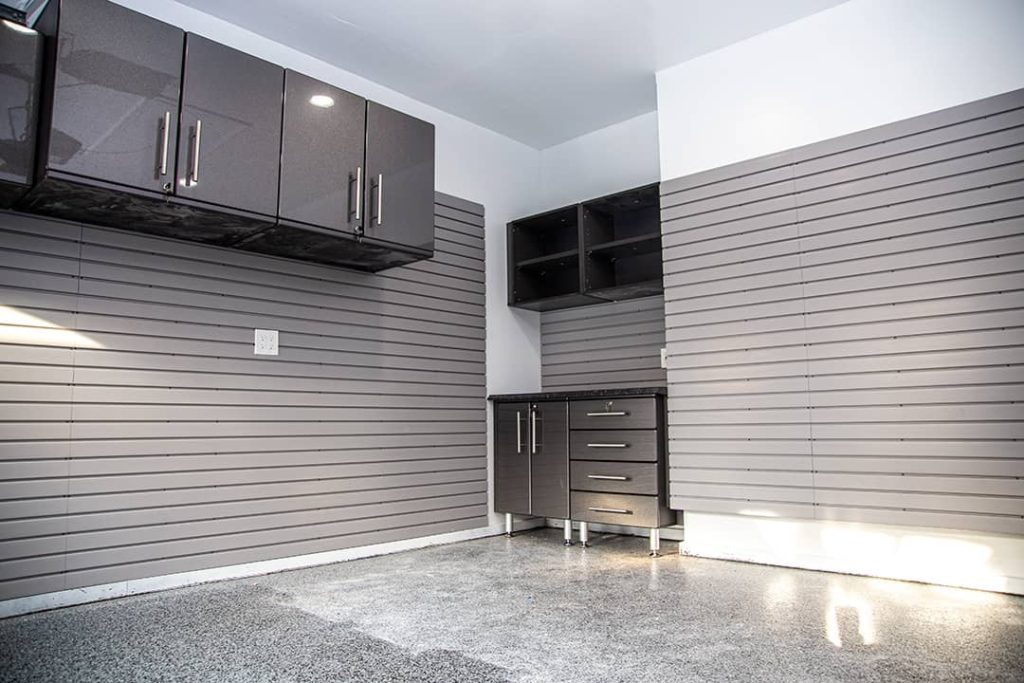 Professional Installers for Your Remodeling Needs
When it comes to garage remodeling in Sarasota, Florida, professional installers play an essential role in the renovation process. Whether you're revamping the existing setup or creating an entirely new space, bringing on a team of skilled contractors can make the entire project more efficient and satisfying.
Working with experienced installers means having access to their expertise and know-how. By choosing skilled contractors who are familiar with local building codes, requirements, and regulations, for instance, you'll be sure that all work remains compliant with relevant laws. This could save you considerable time and money down the line since a mistake made by an unqualified installer can prove costly and require extensive corrections. Professional installers also have the necessary equipment and tools to safely complete the job — something you may not have as a DIYer — which means that all renovations can be done quickly and effectively.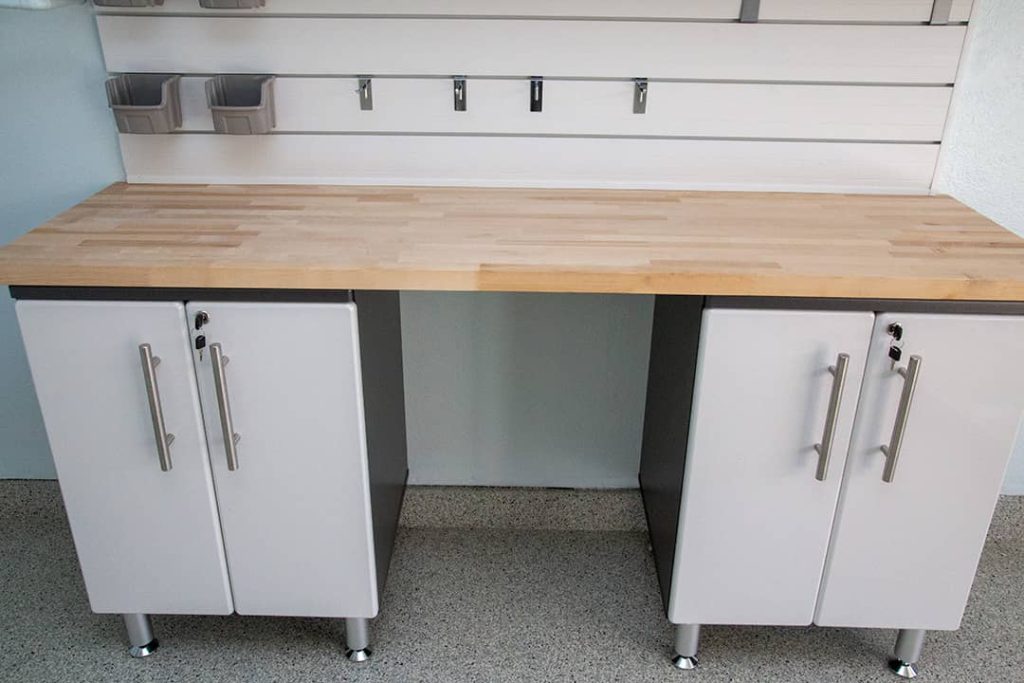 Another factor to consider is safety; even if you're attempting a garage remodeling project on your own, you'll need skilled hands to get it done properly. Bringing on an experienced team of installers ensures these projects are done safely without putting yourself or your family in any danger. Qualified professionals also have access to quality materials and can offer advice related to design choices that fit your budget and preferences.
While hiring pros for some repairs or installations ensures that the job is done correctly the first time around — reducing any risk of costly repairs down the line — and within the confines of local standards and safety requirements. Quality installers will also provide warranties on their services, so you can rest assured that any potential issues can be addressed at no cost over a set period of time. Hiring certified professionals for your garage remodeling needs therefore saves considerable time and money while providing peace of mind that your space will be transformed beautifully and compliantly according to industry requirements.
Once you understand the benefits of hiring professional installers for your garage remodel in Sarasota, Florida, it's important to know how to choose the right company to work with. With so many options out there, selecting the best fit for your project can feel overwhelming. However, by considering a few key factors, you can ensure that you're hiring a reputable and experienced team that will deliver top-quality results. Let's dive into some tips for choosing the right remodeling company for your project.
How to Choose a Company for Your Remodeling Project in Sarasota, Florida
Located in Sarasota County on the stunning Gulf Coast of Florida, the city of Sarasota boasts a population of nearly 54,800 residents and a median household income of $64,500. Sarasota is renowned for its stunning beaches, vibrant arts and culture scene, and a plethora of outdoor recreational activities. One of the most popular home renovation projects in Sarasota is garage remodeling, with many homeowners opting to transform their garages into functional living spaces. From home offices to game rooms, there are endless possibilities when it comes to garage remodeling in Sarasota.
However, choosing the right company to handle your remodeling project can be difficult. When considering who to hire, it's important to evaluate each option carefully. Here are some tips that can help you in the selection process:
Be sure to thoroughly research the company and check their reputation and experience. High-quality garage organization companies come with a proven track record of success and customer satisfaction.
Ask for references and photos of previous projects, so you can get a firsthand look at their work.
Additionally, make sure that the company is properly licensed and insured in the state of Florida. This ensures the highest level of service and protection for you and your project.
Cost is also an important consideration. Depending on the project's scope and materials involved, costs can range from modest investments to higher-end budgets. Identify what type of budget works best for you, then think about which contractor can provide that service.
When it comes to garage remodeling, there are several factors to consider before choosing a company to work with. Experience, reputation, pricing, and the range of services offered are all essential factors to keep in mind. At Hamilton & Carter, we stand out in all of these areas, making us the best choice for anyone looking to improve the functionality and aesthetics of their garage.
But it's not just our range of services that set us apart. Hamilton & Carter is known for our exceptional customer service, attention to detail, and commitment to excellence. We work closely with our clients to understand their unique needs and preferences, ensuring that every project is completed to the highest standards.
Common Questions Answered
The average cost of a garage remodel in Sarasota, Florida can vary significantly depending on the size and scope of the project, as well as the materials and labor required. Generally, the cost to remodel a garage ranges from approximately $5,000-$15,000, with more complex projects running upwards of $25-50,000. These numbers may vary depending on the type of materials used (such as metal vs wood) or any additional features you choose to include. It's important to discuss your specific project needs with a licensed company and get an accurate estimate before starting any work.
There are various garage remodeling services available in Sarasota, Florida, depending on the company you choose to work with. However, one standout option is Hamilton & Carter, a company that specializes in enhancing the functionality and aesthetics of your garage. We offer a range of services, including the installation of custom garage cabinets, ceiling racks, Slatwall systems, and concrete coating, all designed to suit your specific needs. Whether you need more space to store your belongings or a dedicated area to work on your hobbies, Hamilton & Carter can make your garage dreams a reality!
Some Facts about Garage Remodeling in Sarasota, Florida
A 2020 survey found that the cost of a basic garage remodel in Sarasota, Florida was an average of $4,570.
The cost of a mid-range garage remodel in Sarasota can range between $9,000 – $18,000.
The average return on investment for a garage remodel in Sarasota, FL is 75%.
The average time to complete a garage remodel is 4-6 weeks.
The average cost per square foot for a garage remodel in Sarasota, Florida is $50.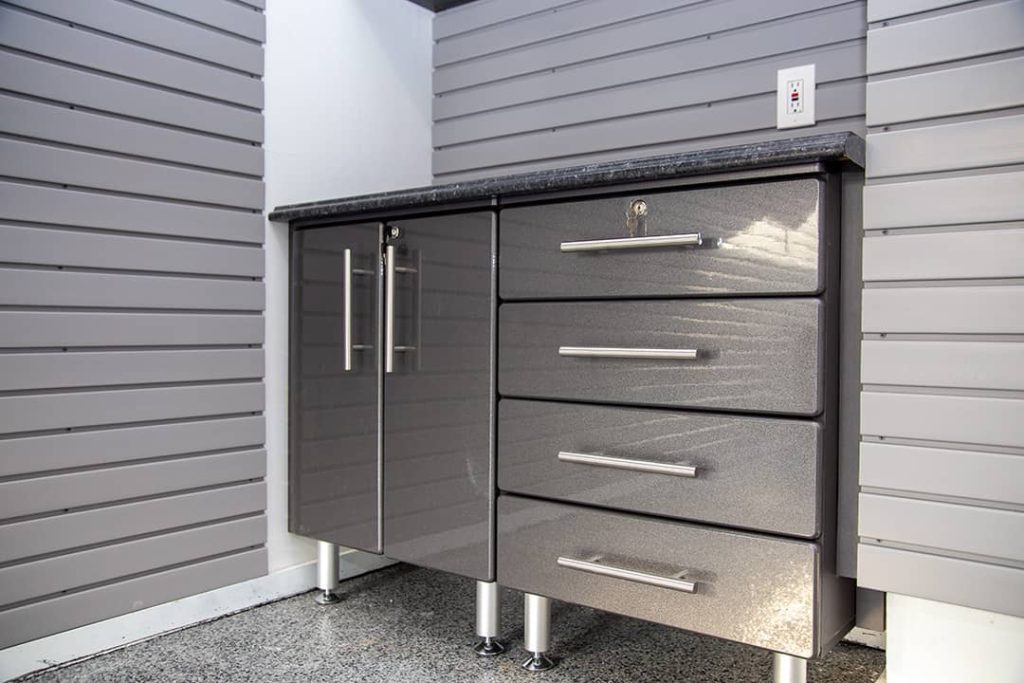 Transform Your Sarasota Garage with Hamilton & Carter
If you're looking to transform your garage into a functional and stylish space, Hamilton & Carter is the company to choose for your garage remodeling in Sarasota, Florida! With over 15 years of experience, a team of skilled professionals, and a commitment to customer satisfaction, we can help you create the perfect space for your lifestyle. Whether you're looking to create a workshop, a home gym, or simply a more organized storage space, we offer a comprehensive range of services to meet your needs and budget. So why wait? Give us a phone call today to schedule your free consultation and start working on creating the garage of your dreams!
Fill out the form below or
call 941-499-8265 right now to get started.
During the consultation scheduling call, your customer service representative will be able to guide you on approximate pricing & various solutions to meet your goals and garage size.
One of our garage specialists will arrive to inspect your garage and provide a free consultation & design right there on the spot.
You can review your design in our innovative 3D software so you can see your garage cabinet, slat wall, or epoxy floor come to life.
Once confirmed, our professional installation team can come and install your brand new custom design garage within two days.
Garage Remodeling Services
Your source for garage cabinets, slat wall systems, epoxy coated floors
and more. We offer a complete garage organization solution.