Improve Your Home with a Garage Makeover in Parrish, FL
If you're like most homeowners, you might find that your garage is more of a headache than a help. With all the seasonal decorations, tools, and outdoor gear, it's easy for the clutter to pile up and overwhelm the space. But don't worry, because a garage makeover in Parrish, FL is just what you need to turn things around. By implementing a few simple ideas, you can transform your garage into an organized and efficient use of space. From custom storage solutions to concrete coating, it's no longer a chore to get your garage in order. Listen up – you're about to learn how in no time you can upgrade your garage and create the space you've always wanted.
Garage Remodeling Trends in Parrish FL
Garage remodeling trends in Parrish, FL are leaning towards more organized usage of the space and beautiful new flooring. Homeowners are beginning to recognize the potential of their garages and want to create an attractive, functional area for storage, hobbies, additional workspace, or parking cars. Garage organization systems help to create storage solutions that maximize the use of their space, such as Slatwall panels with plenty of hooks and baskets that are designed to organize everything from sports equipment to tools.
In addition to the organizational solutions, many homeowners in Parrish, FL are opting for more durable garage flooring options, such as concrete coatings, which provide superior protection against wear and tear. They also have an eye-catching finish that can come in vibrant colors making them a great option to brighten up the look and feel of your garage space.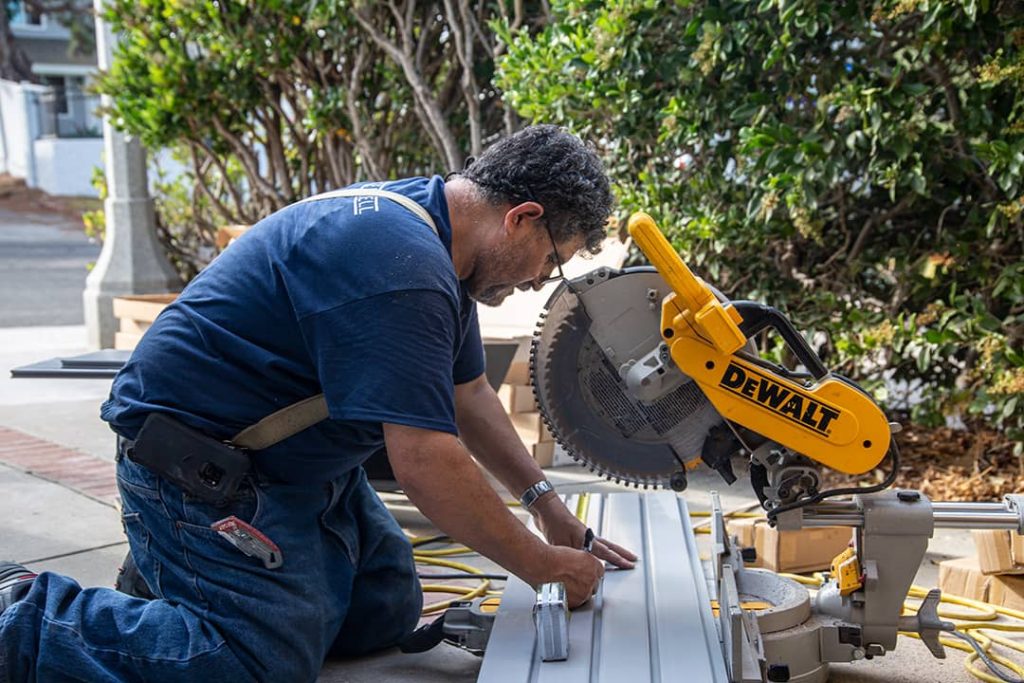 By implementing these garage improvements in Parrish, FL, property owners are gaining long-term value from their investments with both improved functionality and aesthetic appeal. The next section will focus on the benefits of a garage makeover in Parrish, FL, and how it can significantly improve both the usability of the space and increase home value.
Benefits of a Garage Makeover
A garage makeover in Parrish, FL offers a multitude of advantages for homeowners. It can increase your home's value and provide extra room for hobbies and activities. Furthermore, it offers the opportunity to customize the space to your changing needs, while also adding more safety features and greater security.
A garage makeover allows you to free up space that's otherwise wasted due to clutter, as you can utilize the area more efficiently with cabinetry and other organization systems to maximize storage potential. Additionally, it can offer much-needed protection against inclement weather since the extra material added during the makeover will help shield your items from heavy rains or gusty winds which may occur. Furthermore, a garage makeover adds aesthetic value to your home's appearance with modern design elements or classic accents depending on what style works best with the rest of your property.
There are plenty of benefits associated with a garage makeover in Parrish, FL that cannot be ignored when considering a home improvement project. From increased property value and a safer environment for vehicles and valuables to improved aesthetics, a garage remodel offers many rewards. Now that we've established the benefits of this renovation let's move on to how to properly prepare for a garage makeover.
Prepare for a Garage Makeover in Parrish FL
Parrish is a charming unincorporated community located in the northwest region of Manatee County, Florida. Boasting a population of slightly less than 53,000 residents, Parrish is a great place to call home for those looking for a peaceful and friendly community. With a median household income of about $80,000, it's no wonder why many homeowners in Parrish take pride in their homes. However, before you undertake a garage makeover, it's important to take the time to prepare properly. Being organized and doing research can help eliminate potential headaches that may arise during the renovation process.
Firstly, it's essential to have a realistic budget as well as an understanding of what materials are necessary for the project. Conducting research into the cost of different types of materials can also help keep the renovation within budget while still achieving the desired outcome.
In addition to exercising financial responsibility, safety should also remain a high priority. Attempting a garage makeover without the necessary skills or experience can result in costly mistakes or even safety hazards. By hiring a professional garage remodeling company like Hamilton & Carter, you can have peace of mind knowing that your garage makeover will be completed to a high standard with minimal risk of complications.
The process before starting the work may seem somewhat tedious; however, taking the time to prepare can make the difference between a successful experience and an unsuccessful garage makeover. At Hamilton & Carter, we take care of everything, so you can save a lot of time and ensure a quick, professional, and stress-free garage remodeling process. Now that you're prepared for your garage makeover, let's discuss how to improve your garage organization in our next section.
How to Improve Your Garage Organization
Organization plays a key role in achieving an efficient and effective garage makeover. A lack of organization won't only lead to clutter and disarray but also prevents you from taking full advantage of the extra space your garage affords.
It's important to have a standard method for organizing your items so that they're both visually organized and easy to access. Garage cabinets, Slatwall panels, ceiling racks, and containers can all help keep your stuff off the ground and sorted into categories. You should pay attention to vertical spaces that can be used for storage of rarely-used bulkier items. Not only does this allow for more efficient usage of space, but it allows for easier access when infrequently used items are needed.
Once proper organization has been established, choosing garage storage solutions is essential in order to maximize the efficiency of your new garage layout. Are custom cabinets or Slatwall panels better suited for your specific situation? Should a mix or each be incorporated into your design? With answers to these questions mapped out ahead of time, garage makeovers will be successful as well as cost-effective. In the following section, we'll explain how custom garage cabinets, Slatwall panels, and ceiling racks can be used together to improve storage solutions while also increasing efficiency and organizational capability.
Choosing Garage Storage Solutions for Your Parrish Garage
When it comes to garage makeovers in Parrish, FL, the incorporation of efficient and organized storage solutions is key. Custom garage cabinets, Slatwall panels, and ceiling racks can help maximize the available space and significantly improve the overall aesthetics of the garage.
Garage Remodeling Ideas and Tips
Considering garage remodeling ideas and tips can help homeowners turn their garages into stylish, organized, and useful spaces. A remodel can not only improve a garage's appearance but also its functionality. From new flooring to maximizing usable space, there are many ways to transform a basic garage into a beautiful, organized area that meets the needs of you and your family.
One of the most common garage remodeling ideas is to add more storage space. Depending on the dimensions and layout of the space, homeowners can add additional overhead storage and cabinets for even more efficient organization. Solutions such as Slatwall panels can provide additional space for sports equipment, tools, and gardening supplies that would otherwise take up valuable floor space.
Homeowners looking to completely restyle the aesthetic appearance of their garages can update their floors with durable concrete coatings that create a modern look while withstanding everyday wear and tear.
Now that you have some ideas and tips to consider when remodeling your garage, let's dive into one specific aspect of the renovation process: installing new garage flooring. Although often overlooked, your garage floor can have a significant impact on the aesthetics and functionality of the space. In the upcoming section, we'll review some options for updating your garage floor and help you choose the best option for your needs.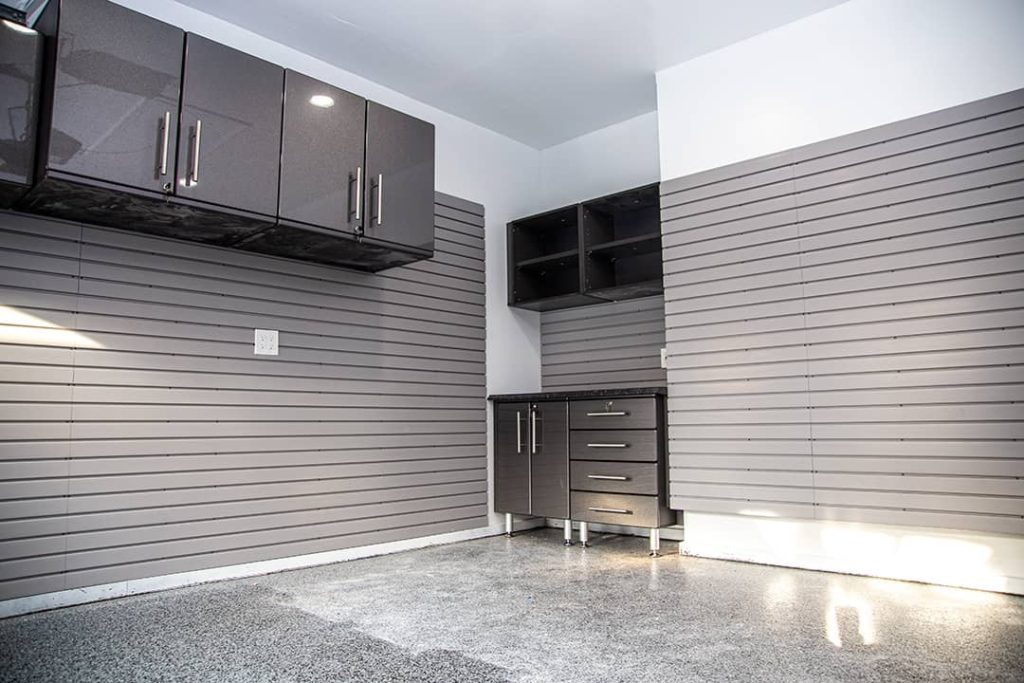 Installing New Garage Flooring in Parrish
Installing new garage flooring is often one of the most important aspects of a successful garage makeover in Parrish, FL. Two popular choices for garage flooring are concrete coating and epoxy flooring. Both provide an attractive, durable finish to floors and can be customized to the desired style and color.
Concrete coating provides layers of protection from staining, cracking, and other damage, and offers the greatest durability against constant use and heavy equipment likely found in garage spaces such as cars, lawnmowers, workbenches, and heavy tool chests. Furthermore, concrete coatings are generally easier and faster to install and there is minimal odor caused by the product. Depending on the size of the garage and expected traffic, concrete coatings can last at least 15 years.
Another major benefit of using concrete coatings for a garage makeover is the range of design options available. Concrete coatings come in a variety of colors and textures, so you can select the look that best suits the style of your home in Parrish, FL. The wide array of choices also means that there is likely to be a suitable selection even if you're on a tight budget. Additionally, concrete coatings can easily cover existing imperfections such as chips or stains, making them ideal for covering up existing damage.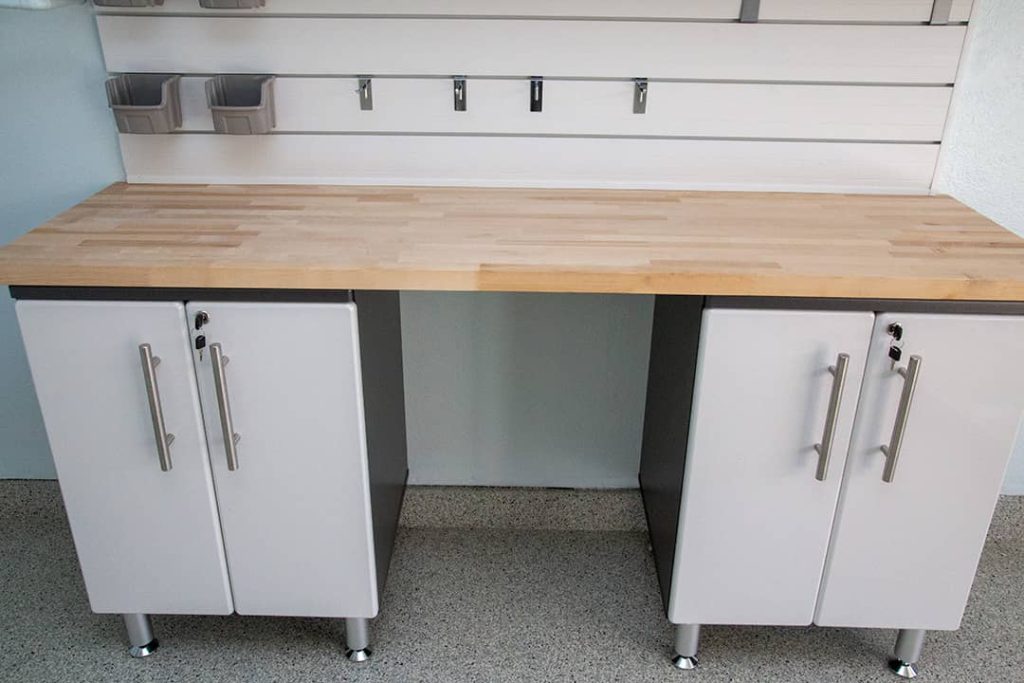 Epoxy flooring also offers a number of appealing features, such as limited slip resistance, chemical resistance, and unique customization options. However, this type of flooring tends to have a shorter lifespan than concrete coating due to the porous nature of the material used for the surface layer, which must be resealed regularly. Moreover, epoxy is typically not suitable for outdoor applications and may require additional prep work before being installed.
For all these reasons, applying concrete coatings as part of a garage makeover in Parrish, FL is the best choice, as they offer more permanence and design flexibility than epoxy flooring at a reasonable cost. However, even with the best garage flooring solutions, mistakes can still happen during the renovation process. The following section will discuss these errors in detail so that you can avoid them and ensure that your project has a satisfactory outcome.
Common Mistakes to Avoid When Doing a Garage Makeover
When embarking on a project as extensive as a garage makeover, common costly and time-consuming mistakes can be made. Taking the proper steps beforehand to ensure that the process runs smoothly is essential for the completion of a successful makeover.
Not establishing a budget:
It can be easy to enter into a project without first establishing a budget. When you don't know what you're spending your money on, you could easily find yourself overspending on materials or services, or worse yet end up with something that doesn't fit into your budget at all! Knowing exactly how much money you have to work with will help define the scope of the project.
Not considering the variety of options:
Additionally, not taking into account the variety of storage solutions available can lead to underutilized space and inefficient organization. Another mistake is not considering creating an organizational system by combining different storage solutions.
Not seeking help from experienced professionals:
Lastly, another common mistake homeowners often make is assuming they can undertake their garage makeover on their own without ever considering professional services. Working with a company that specializes in garage storage solutions can be beneficial in making sure that all aspects of your makeover are addressed properly with expertise and professionalism. In fact, working with our company provides customers with convenience and confidence throughout the entire process. With our team of experts by your side, we take care of all those crucial little details that might otherwise have been overlooked or forgotten during your garage makeover process.
When undertaking a garage makeover in Parrish, FL it's essential to take into consideration all potential risks and challenges that may arise during the process. After reading about these potential pitfalls, it's easy to understand why working with a reputable company that specializes in such projects is highly recommended. In the following section, we'll take a look at some of the factors you should consider when choosing the remodeling company that will help you make your dream garage a reality.
How to Choose the Right Company for a Garage Makeover in Parrish FL
Choosing the right company to work on a garage makeover in Parrish, FL is a crucial decision and one that should be made with a great deal of care and consideration. While there are numerous companies to choose from in the area, not all of them will provide top-notch service or meet your standards in terms of quality design and craftsmanship. With that in mind, here are some steps you should follow to select the best company for your project.
-Do your research:
Investigating potential companies before making a decision is an invaluable step in ensuring success. Read online reviews, ask for references from previous projects, and make sure you're familiar with all the services offered by each company. Ask any companies of interest questions about their contracting processes, timelines, and warranties, and even inquire about their qualifications and certifications. All of this research will help you gain an understanding of the services each company provides and if they're the right fit for the job.
-Take a look at their portfolio:
Another important factor when choosing a company is to take a look at the projects completed by them. This can help you visualize what the results may look like. It can also be beneficial to check out reviews from previous customers about their experience through social media channels such as Facebook or Instagram.
-Make sure they're licensed and insured:
Ultimately, make sure that the company you choose complies with all local codes and licensing requirements, as well as industry regulations, to ensure top-quality workmanship and the maintenance of safety standards throughout all phases of the project.
Taking these steps into account will better equip homeowners looking to complete a garage makeover in Parrish, FL with the knowledge they need to select the right company for the job.
What to Expect When Working With Hamilton & Carter
At Hamilton & Carter, we believe that the process of working with us should be simple and stress-free for our customers. From the initial quote to the final installation, we strive to make the entire process as seamless and efficient as possible.
Request a Quote:
If you're interested in working with our company for your garage makeover in Parrish, FL, the first step is to request a quote. We understand that every home and every garage is unique. That's why during our consultation call we ask you a few questions that allow us to better understand your particular needs and situation. We use this information to suggest the best materials for the job and provide an honest estimate of the cost and time it would take to complete the project.
Have Your In-Home Consultation:
Once you've requested a quote, the next step is to have an in-home consultation with one of our designers. Our team will work closely with you to identify what works best for your family and your individual needs while staying true to the budget you've set out. Whether it's finding the balance between smart storage options or flooring that suits your style – our experts can guide you through the different choices available, so you feel confident making an informed decision according to factors such as function, form, and price.
Installation:
Once we've agreed on the plans and design, the installation will begin. Our installers are highly rated professionals with over 15 years of experience transforming garages into dream spaces. Quality craftsmanship is guaranteed no matter the scope of work needed – our team will ensure quality every step of the way. You'll also be given advice on how best to maintain your newly renovated space for long-lasting results.
At Hamilton & Carter, we're committed to providing quality results within a reasonable timeframe in order to deliver an exceptional customer experience. Our team strives for perfection in all our projects – so why not consider us for your next garage makeover project in Parrish, FL? With decades of combined experience under our belt, we can guarantee that we can create the perfect personalized solution to meet all your requirements – giving you complete peace of mind knowing that you're dealing with experienced professionals from start to finish!
Responses to Frequently Asked Questions with Detailed Explanations
Some Facts about Garage Makeover in Parrish FL
The average cost of a garage makeover in Parrish, FL is $4,500.
Realtor.com suggests that performing a complete garage makeover could increase home value by 7 – 10%.
The average time to complete a garage makeover in Parrish, FL is 4-6 weeks.
The most popular materials used for garage makeovers in Parrish are epoxy floor coatings, wall panels, and storage cabinets.
Over 80% of garage makeovers in Parrish include wall panels.
Over 70% of garage makeovers in Parrish, FL include storage cabinets.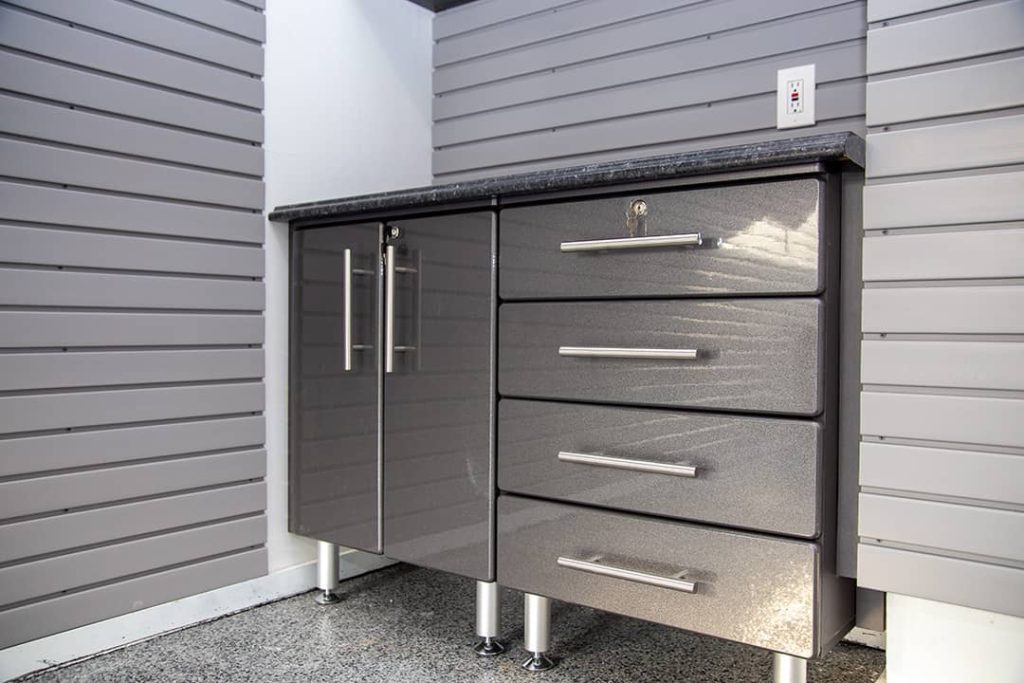 Upgrade Your Garage Today with Hamilton & Carter
A garage makeover in Parrish, FL can transform a cluttered and disorganized garage into a beautiful and organized space. At Hamilton & Carter, we offer customized storage solutions and high-quality concrete coatings that will transform your garage into a functional and efficient space. Our team of experts has over 15 years of experience in the industry and is dedicated to providing exceptional customer service. So, whether you need more space for your tools and equipment or want to create a functional workspace, we can help you design a garage that not only looks great but also meets your unique needs. Don't hesitate to contact us today to schedule a consultation and take the first step towards your dream garage makeover in Parrish, FL. Trust us to help you create a space you'll love and enjoy for years to come!
Fill out the form below or
call 941-499-8265 right now to get started.
During the consultation scheduling call, your customer service representative will be able to guide you on approximate pricing & various solutions to meet your goals and garage size.
One of our garage specialists will arrive to inspect your garage and provide a free consultation & design right there on the spot.
You can review your design in our innovative 3D software so you can see your garage cabinet, slat wall, or epoxy floor come to life.
Once confirmed, our professional installation team can come and install your brand new custom design garage within two days.
Garage Remodeling Services
Your source for garage cabinets, slat wall systems, epoxy coated floors
and more. We offer a complete garage organization solution.