Get Organized: Custom Garage Cabinets in Lakewood Ranch, FL
Are you tired of tripping over cluttered piles of tools, sports equipment, and seasonal decor in your garage? Hamilton & Carter has the perfect solution for you! As a premier provider of Slatwall panels, overhead storage systems, and custom garage cabinets in Lakewood Ranch, FL, we're dedicated to transforming your garage into an organized, efficient space that enhances your daily routine. Our tailored storage solutions are designed to meet your specific needs, maximize your garage's potential, and complement your unique style. In addition to our custom cabinets, we can also apply concrete coatings to complete your garage's transformation. Let us help you create a seamless, clutter-free garage that will make your life easier and impress your guests!
Storage Solutions to Optimize Garage Organization
In today's fast-paced world, a well-organized garage is more than just a luxury; it's a necessity for maintaining order and efficiency in our daily lives. With the right storage solutions, your Lakewood Ranch garage can be transformed from a cluttered catch-all to a streamlined, functional space that maximizes productivity. Here, we'll explore a variety of storage solutions tailored to optimize garage organization, helping you reclaim precious square footage, create easy access to your belongings, and simplify tasks such as vehicle maintenance, home projects, and seasonal storage.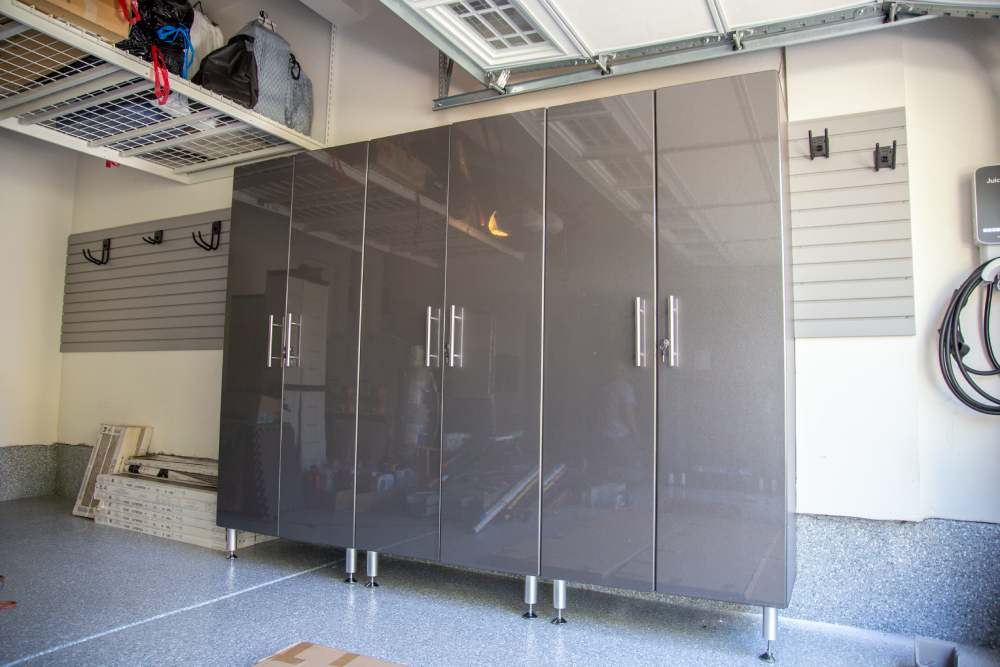 Ultimately, there are many advantages to utilizing custom cabinets, Slatwall panels, and ceiling racks that make them great options for optimizing storage and organization in any garage space. However, it's time to shift our focus to another crucial aspect of garage transformation: flooring. In the upcoming section, we aim to help you discover the ideal flooring option for busy garages, taking into consideration factors such as durability, maintenance, and aesthetics.
The Ideal Flooring Option For Busy Garages in Lakewood Ranch FL
Located in southeastern Manatee County and northeastern Sarasota County, Florida, Lakewood Ranch is a flourishing planned community that boasts a picturesque landscape and an array of recreational and cultural amenities. With a population of almost 35,000 and an average household income of approximately $110,000, the area is synonymous with prosperity and economic opportunities. When it comes to garage remodeling projects, homeowners in Lakewood Ranch must consider the right flooring option to ensure that their garage is functional, durable, and easy to maintain.
Concrete coatings have become a popular choice for garages as they provide excellent protection against oil, chemicals, and mechanical wear and tear. Additionally, advancements in concrete coatings over the past few years have made them more durable and allow for increased design customization.
Epoxy flooring is another popular option for garage flooring due to its easy application. While generally easier to apply than concrete coatings, epoxy doesn't offer optimal protective benefits against oil or other harsh chemicals found in garages. In addition, epoxy is susceptible to chipping, which requires further maintenance down the road.
In conclusion, concrete coatings are ultimately the more suitable option for garage floors due to their durability and heavy-duty protection. Taking these points into consideration when remodeling a garage will ensure it stands up to the rigors of everyday use while looking great. Now, let's identify and address some common pitfalls that homeowners may encounter during a garage remodeling project. By being aware of these potential missteps, you can confidently navigate the renovation process and ensure a successful outcome.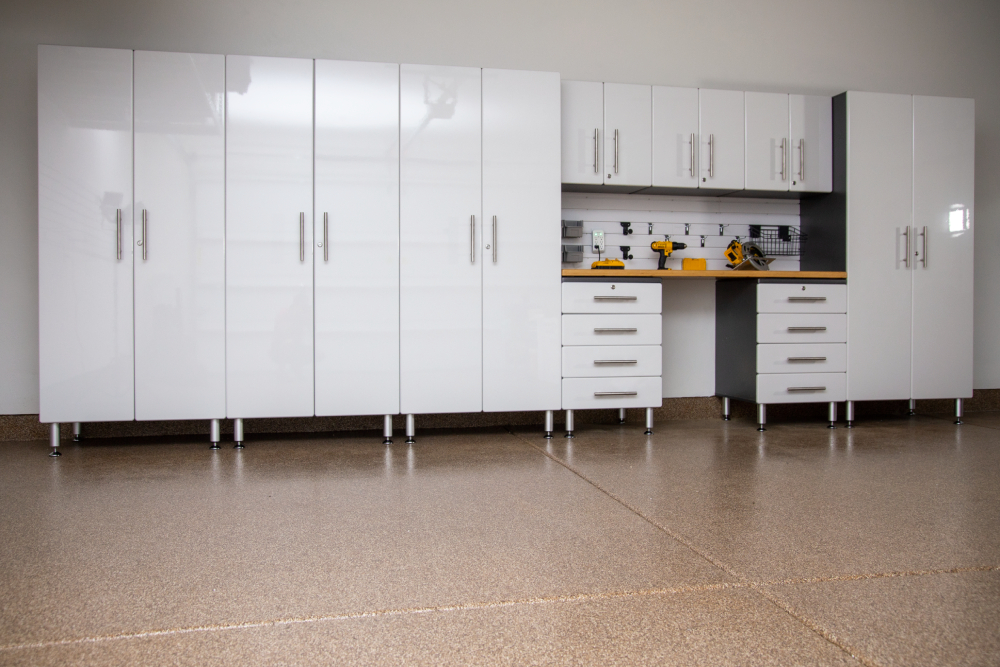 FAQs about Custom Garage Cabinets in Lakewood Ranch FL
The materials used for custom garage cabinets in Lakewood Ranch, FL depend on the style and purpose of the cabinets. Generally, sturdy and high-quality materials such as wood, heavy-duty steel, and plastic laminate are commonly used to ensure that your cabinets will remain in good condition for years. Wood gives a classic antique look to the garage, while steel is ideal for those seeking industrial strength and functionality. Plastic laminate supplies an economical choice with great aesthetics. Ultimately, you want to choose a material that suits your tastes and budget but also offers the durability necessary to keep your possessions safe and make sure they last.
The cost of custom garage cabinets in Lakewood Ranch, FL can vary depending on a few factors such as size, material, and installation. Generally, you can expect to pay between $800 – $2,500 per cabinet depending upon these features. However, if you're looking for top-of-the-line materials and high-end installation it can cost as much as $15,000 or more. Generally speaking, most people in the area find that custom cabinets are worth the investment for their home's value and convenience if installed correctly. If you want to know exactly how much it will cost to install custom cabinets in your garage, feel free to contact Hamilton & Carter and ask for a quote.
Some Facts about Custom Garage Cabinets in Lakewood Ranch FL
The average cost to install custom garage cabinets in the U.S. is $1,092.
There are currently over 50 businesses offering custom cabinet services in the Lakewood Ranch, Florida area.
According to a survey conducted by HomeAdvisor in 2021, 95% of homeowners surveyed reported that they were satisfied with their custom garage cabinet installation.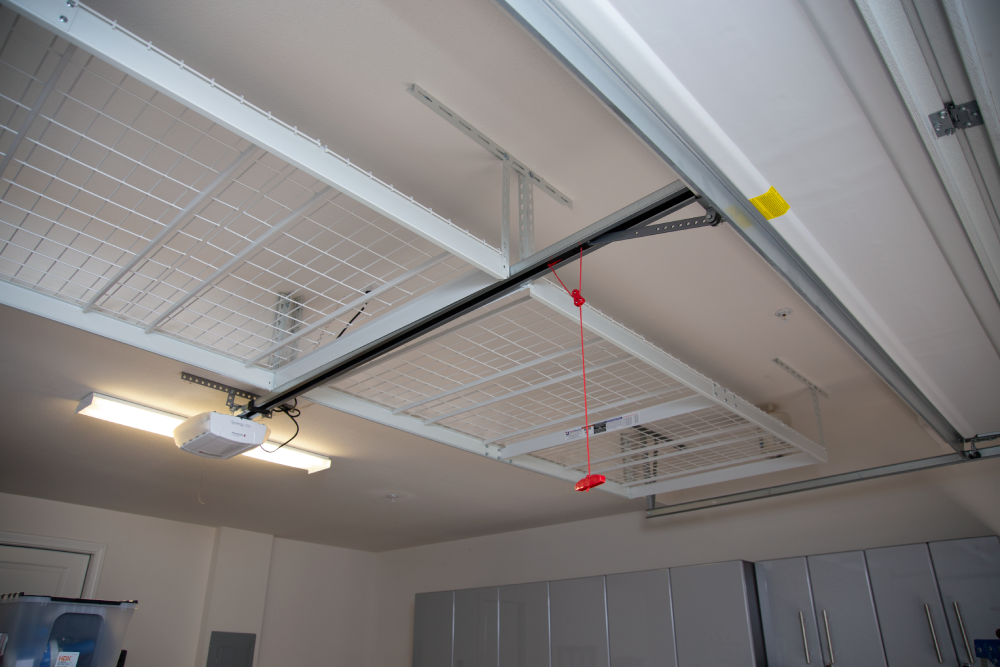 Upgrade Your Garage Organization with Custom Cabinets
Upgrading your garage with well-planned organization and custom garage cabinets in Lakewood Ranch, FL, can dramatically enhance its functionality and aesthetics. By partnering with Hamilton & Carter, you can rest assured that your garage transformation will be executed with precision, utilizing top-quality materials and tailored solutions. Our team of experts will work closely with you to design and install systems that not only optimize your storage space but also enhance the overall appearance of your garage. Don't wait any longer — schedule a free consultation and get ready to transform your garage into the organized haven you've always envisioned!
Fill out the form below or
call 941-499-8265 right now to get started.
During the consultation scheduling call, your customer service representative will be able to guide you on approximate pricing & various solutions to meet your goals and garage size.
One of our garage specialists will arrive to inspect your garage and provide a free consultation & design right there on the spot.
You can review your design in our innovative 3D software so you can see your garage cabinet, slat wall, or epoxy floor come to life.
Once confirmed, our professional installation team can come and install your brand new custom design garage within two days.
Garage Remodeling Services
Your source for garage cabinets, slat wall systems, epoxy coated floors
and more. We offer a complete garage organization solution.